Good Morning Everyone,
I have some very exciting news to share with everyone! I have know for well over a week and believe me I am bursting with excitement!
I have been chosen as one of the New Design Team Members over on the Sweet Stampin Challenge Blog!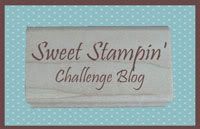 It is just such fab news couldn't wait to share it with you all!