Hope you are all well.
Sorry meant to post this earlier, but for some reason I didn't have any internet yesterday, but after reporting it last night is seems that BT has sorted the issue out.
SO....I am back with another project I made for the current Hobbycutz Challenge, but before I show it to you all - I would like to tell you about our DT call we currently have running.
Please visit our blog
here.
...all the info is available in the post.
I am looking for about 7 new DT members to join our team, so if you think you want to join a DT team or another DT team please get in touch.
Okay so our
Current challenge running
is - Lace & Bows and there is still plenty time to enter.
We have the lovely lady Sherry from
Besties
sponsoring us and it was so much fun to use her images.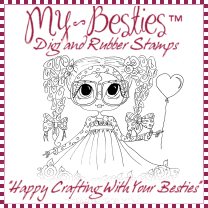 So here's my project -
I used Butterfly Balloon from My Besties and coloured her with using my Promarkers.
Colours used - Cornflower, Denim Blue, Pastel Blue, Lipstick Red, Caramel, Tan, April Mist, Chestnut,Terracotta, Raw Sienna, Ivory, Vanilla, Blush, Pastel Pink, Tullip, Buttercup, Cool Grey, 4,2,1
Dies - Doo Hickey Doily Flower and laser cuts from
Hobbycutz.
Lace & Twine from my stash.
Well, I hope you have found something that inspired you.
I would like to enter my project into the following challenges -